Big Exchange Event
June 3, 2016

Looking to exchange your lease for a new car? Need a new car to get you going for the summer?
Check out the Big Exchange Event at Smith Haven Chrysler, Jeep, Dodge, Ram! For a limited time, Smith Haven can get you out of your current lease up to 4 months early and into a brand new vehicle!
With over 1,400 brand new vehicles to choose from, the choice is yours to make! Choose from a brand new 2016 Jeep Grand Cherokee, a 2016 Dodge Charger, or a new 2016 Ram 1500 for your business or personal use.
And if you just started a family, come in to Smith Haven and check out the All New 2017 Chrysler Pacifica! This all new, technically accomplished mini-van leads the way in its class and is destined to keep families happy for years to come.
Come into Smith Haven Chrysler, Jeep, Dodge, Ram located in St. James Smithtown today! Whether you're coming from Riverhead or Wantagh, Setauket or Bayshore, Smith Haven is ready to get you into a brand new vehicle. Proudly serving the Long Island community for over 45 years, Smith Haven is your one stop shop for all things Chrysler, Jeep, Dodge, Ram.



2nd Annual Brand New Leftover Sale!

May 9, 2016


2016 Dodge Challenger HellcatApril 27, 2016
2016 Dodge Challenger Hellcat at Smith Haven Chrysler Jeep Dodge Ram.
Spring Tag Sales Event - Jeep

April 20, 2016

View the video below to see Jeep deals from our 2016 Spring Sales Tag Event.

Spring Tag Sales Event - RAM

April 20, 2016
View the video below to see Ram Truck deals from our 2016 Spring Sales Tag Event.
Vehicle of the Week: 2016 Dodge Durango

April 14, 2016


When you're looking for performance and size, the 2016 Dodge Durango can't be beat. With up to 360 horsepower and Best-In-Class Standard Fuel Economy up to 27 HWY MPG, the Dodge Durango powers you through your day, your week or your family vacation.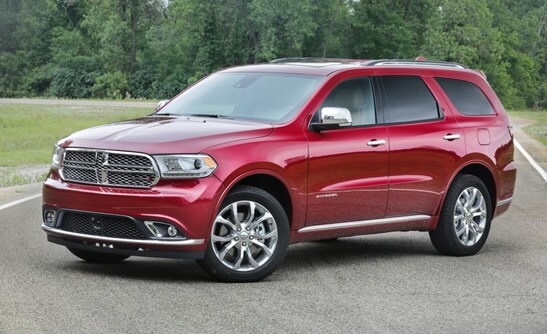 The Dodge Durango comfortably seats 7 passengers so no one gets left behind. Plus, with 84.5 Cubic Ft. of cargo space, road trips are truly unlimited. And keep the family entertained with 2 available seatback-mounted 9-inch screens, boasting the most technologically advanced SUV in its class under $30,500.
And don't forget, the 2016 Dodge Durango is a thing of visual beauty, with 11 available colors and Class-Exclusive Signature LED Racetrack Taillamp with 192 LEDs. It's these rugged good looks that make the 2016 Dodge Durango the versatile beast that it is.
Check out the large selection of the 2016 Dodge Durango and other Dodge vehicles at your exclusive Dodge Dealer Smith Haven Chrysler Jeep Dodge Ram located in the heart of St. James/Smithtown. Smith Haven proudly serves the Huntington, Smithtown, Port Jefferson, Patchogue and Bay Shore areas, and everywhere in between on Long Island. Even if you're coming from as far as Wantaugh, you won't find a better deal than at Smith Haven, all with $0 Dealer Prep Fees and $0 Administration Fees.
Grand Cherokee - Pairing Your Cell Phone with Bluetooth

April 13, 2016

Click the link below for step by step instructions on how to pair your phone with your Jeep Grand Cherokee.
Vehicle of the Week: 2016 Chrysler Town & Country

March 25, 2016


Are you and your family ready for Spring Break? Take the family for a road trip inside a brand new 7 passenger 2016 Chrysler Town & Country Minivan. In 2015, the Chrysler Town & Country was named a Consumers Digest Best Buy, delivering the most value for the money.
The Town & Country delivers a 283-horsepower V-6 engine with a 6-speed automatic transmission, allowing for quicker steering response and more versatility in motion while carrying a full family. Also, the Chrysler Town & Country gets an EPA estimated 20 MPG combined, which puts it towards the top of its class.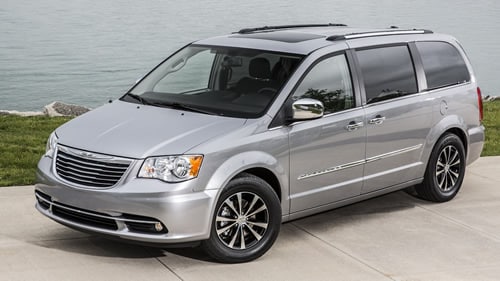 One of the great benefits of the Town & Country is its Stow 'N Go capability. A feature exclusive only to Dodge and Chrysler vehicles, Stow 'N Go allows the two rearmost rows of seats to be folded flat into the floor, while still allowing seating for five. So whether you're traveling or moving, the Town & Country offers the versatility needed for any larger family.
Smith Haven Chrysler Jeep Dodge Ram in St. James Smithtown is your number one stop for the 2016 Chrysler Town & Country. Whether you are coming from Riverhead or Hempstead, Port Jefferson or Patchogue, Smith Haven Chrysler Jeep Dodge Ram has the deal for you all with $0 Down Payment, $0 Dealer Prep Fees and $0 Administration Fees. Make an appointment today!
---

Chrysler Pacifica
March 14,2016
Can't wait for the new 2017
Pacifica
? Well, here's some great news about it-the brand new 2017 Chrysler Pacifica scores towards the top of its class in combined fuel economy with 22 miles per gallon. The 2017
Pacifica
features a redesigned 3.6-liter, V-6 Pentastar engine that produces 287 horsepower-giving it both power and economy.
Things will get even more economical later in the year when the 2017 Pacifica Hybrid is released, which will get 80 miles per gallon equivalent in city driving. The 2017 Pacifica Hybrid will go up to 30 miles on electric power when fully charged and becomes a part-time electric vehicle when the battery's energy is depleted.
The New 2017 Chrysler Pacifica will be available at your St. James Smithtown dealership Smith Haven Chrysler Jeep Dodge Ram later this Spring 2016. Reserve yours today and get ready to cruise
Long Island
with your entire family. 
How to Start Car if Key Battery is Dead


March 11, 2016


INTRODUCING THE LUXURIOUS 2016 JEEP® CHEROKEE OVERLAND®

March 1, 2016
Who knew adventure could be this refined? For those who are as passionate about driving as they are about arriving, the new 2016 Jeep® Cherokee Overland® is a mid-size SUV built to perform and designed to stand apart with luxurious details and sophisticated styling.
Visit Smith Haven Chrysler Jeep Dodge Ram
February 6, 2016
Smith Haven Chrysler Jeep Dodge Ram is a modern state-of-the-art dealership on Long Island that has been family owned and operated for over 45 years. With over 1700 vehicles available you are sure to find the perfect fit for your next vehicle. Smith Haven is home of the real deal $0 Down Payment! Smith Haven also has a full line of Ram commercial trucks and vans and regularly services Long Island's business and commercial professionals. Watch the video below for more information.
August 27,2015 
The 2015 Dodge Journey is forged from adventure. Journey is the most versatile crossover in its class, with standard five passenger seating and available seven passenger seating. Good looks come standard, with a striking front fascia, sweeping lines, and a rear spoiler over the liftgate. Select models feature the exclusive Dodge "Ring of Fire" LED taillamps for an even more distinct look. Outside mirrors...

                                                                                                                                                                    Read More ...
---
August 12, 2015 
Sedans are one of the most popular cars on the road today because they are versatile. Sedans can be sporty, fast, luxurious, and economic. There's practically a sedan for everyone. If you're in the market for a sporty and spacious sedan with great gas mileage, then new 2015 Dodge Dart might just be the one for you. The Dart is a fresh new spin on sedans that's sure...

                                                                                                                                                                    Read More ...
---
July 17, 2015 
When it comes to car buying, you're options are practically endless. But, if you're the adventurous type, there's nothing better than owning a Jeep. Our recommendation? The new 2015 Jeep Patriot. This SUV is rough, rugged, and well-equipped to handle the mud, hills, and whatever else you can throw at it. Not only will tough terrain crumble beneath your 16-inch steel wheels, but you'll save a ton...

                                                                                                                                                                    Read More ...
---
June 30,2015 
All new for 2015, the Jeep Renegade leads one of the toughest and All-American car brands solidly into compact crossover territory. More funky than rugged, this ultra compact Jeep is likely to cause some dissension among Jeep's faithful adherents. However Jeep is assuring the public that at least one of these models can handle some rough and tumble, and although base models will be front-wheel drive, the full-time 4x4 ("Jeep Active Drive") is an exciting alternative for other models. A rear axle which can detach when not being utilized for traction is being touted as the answer to better fuel economy. The top of line Trailhawk is engineered to tackle...

                                                                                                                                                                    Read More ...
---
June 18,2015 
This SUV was definitely not designed to be a relaxing family road trip SUV. No, the 2015 Jeep Wrangler Limitedr instead offers serious wilderness traversing, trail-blazing and stream-fording prowess. And in its segment, it is practically unrivaled. The Trail Rated® badge guarantees that this Jeep has been put through it, proving itself in five categories of off-road conditions: traction, ground clearance, maneuverability, articulation and water fording.  And lest you think the success of this rugged Jeep is lucky or fleeting, the Wrangler Unlimited Rubicon edition was given the distinction of being...

                                                                                                                                                                    Read More ...
---
June 6,2015 
It used to be that SUVs were covered in dirt and up to their wheel wells in water. The off-roading legacy seems to have been relegated to a few sport-utility vehicles made for that purpose, but the 2015 Jeep Cherokee offers a great combination of features from both worlds - sensible functionality, and a competent off-road experience. Cherokee's relaxed and elegant ride quality is a cut above many other small crossovers, exhibiting a thoughtful cabin layout and superb standard and optional...

                                                                                                                                                                    Read More ...
---
May 20, 2015 
NY 2015 Grand Caravan | New York Dodge Dealer
The 2015 Dodge Grand Caravan is the original minivan. Since 1983 when Chrysler invented the minivan, it's been a staple for families. The 2015 version is still one of the most trusted and functional vehicles you can buy. When you need to carry...

                                                                                                                                                                    Read More ...
---
May 6, 2015 
NY 2015 Dodge Durango Limited | New York Car Dealership
Are you ready to leave that bulky minivan behind and step into something stylish and powerful? Then we suggest the new 2015 NY Dodge Durango Limited. This SUV is completely versatile, giving you the space, luxury, and towing capability you...

                                                                                                                                                                    Read More ...
---
April 9, 2015 
2015 200 Limited | Long Island Chrysler Dealer
With so many midsize vehicles to choose from, how did you know which is right for you?I f you're the type of person who likes a bit of luxury and a whole lot of style, then you may be interested in learning more about the
New York 2015 Chrysler 200
Limited. This sedan has...                                                                                                                                                                    
Read More ...
---
March 26, 2015 
NY Grand Cherokee Safety Features |  Long Island Jeep
The award winning Long Island 2015 Jeep Grand Cherokee has over 70 available safety features. That means peace of mind for you on the road. Of course, Jeep Grand Cherokee features the most advanced air bag system available, including Advanced Multistage Front Airbags, Driver Inflatable Knee-Bolster Airbag, Passenger Inflatable Knee-Bolster Airbag and much more. The 2015...

                                                                                                                                                                    Read More ...
---
March 12, 2015 
If you're looking for a full-size luxury sedan that's got all the right stuff, consider the new 2015 Chrysler 300 Limited. This top-pick sedan has been redesign to be more fuel efficient and include the latest features...

                                                                                                                                                                    Read More ...
---
February 16, 2015 
If you're in the market for family minivan that offers more than just a spacious ride, consider the new 2015 NY Chrysler Town & Country. This luxury minivan is designed look good, feel good, and drive like a dream. Smooth styling, a plethora of standard...

                                                                                                                                                                    Read More ...
---
February 6,2015 
If you're unsure whether you should buy or lease a car, consider your lifestyle. For example, if you'd only like to keep a car for a short span of time, leasing would be the way to go. But, if you're looking for a long-term commitment, buying is definitely the choice for you. There are several pros and cons...

                                                                                                                                                                    Read More ...
---
January 22,2015 
The Dodge Durango is one of those vehicles that has all-in capability. In 2015, the NY Dodge Durango comes in 5 trims - SXT, Rallye, Limited, R/T, and Citadel. Dodge engineers don't believe in one size fits all. Within the belly of each lies either a 3.6L Pentastar V6 with up to 295 HP or an available 5.7-liter HEMI® V8, pushing out 360 HP and 390 ft-lb of torque. By merging the versatility...

                                                                                                                                                                    Read More ...
---
January 8,2015 
Are you looking for the perfect vehicle to take you on weekend camping trips and other adventures? Maybe you also want something that doesn't guzzle gas so you can put as many miles behind you and city life as possible? If so, Smith Haven as the just the thing...

                                                                                                                                                                    Read More ...
---
December 23,2014 
Wanted: A driver who can handle the latest performance test from Dodge. If you're the kind of driver who responds to the beating heart of a purebred performance car - keep reading. If you're the kind of driver who can tame unruly beasts - keep reading. For 2015, Dodge has the test for you. It's the completely new, redesigned NY Dodge Challenger SRT® Hellcat...

                                                                                                                                                                    Read More ...
---
December 15, 2014 
There are literally hundreds of sedans on the market today and finding the right one for you can be tough. However, if you're looking for a premium sedan that provides more power, space, and luxury than its competitors, then consider the NY Chrysler 300. The Chrysler was practically made...

                                                                                                                                                                    Read More ...
---
November 10, 2014 
Smith Haven Auto Group is proud to announce our participation in "Long Island Cares." With the holiday season quickly approaching, we have opened all three of our showrooms as a collection site for...

                                                                                                                                                                    Read More ...
---
November 6, 2014 
New Yorker's are known for their style and their need for comfort and luxury, but they also have a rough and rugged side. New York state offers a natural assortment of dirt, rocks, hills, mountains, long stretches of road, and city streets with lights at every intersection. What luxury vehicle could possibly encompass all these terrains and more? In rolls the new...

                                                                                                                                                                    Read More ...
---
October 23,2014 
Finding the right truck for your needs can be hard. Sometimes a large, rough and tumble, noise-making, gas-guzzler isn't what you need for your particular lifestyle. At the same time, you may need more trunk space and towing capability than say, the Tacoma. Maybe you just need a small but reliable truck to get you and a decent amount of equipment around from...

                                                                                                                                                                    Read More ...
---
October 9, 2014 
Looking for a sporty feel that still offers a comfortable cabin? The 2014 Dodge Dart is here! Available in 9 different colors, this 4-door sedan comes with a 6-speed manual transmission and the option for an automatic transmission. Boasting a 184-HP 2.4L Tigershark® MultiAir® II Four-Cylinder Engine, the Dart allows up to 35 hwy mpg and is polished off with a Signature LED Racetrack Taillamp...

                                                                                                                                                                    Read More ...
---
September 25, 2014 
As SUVs in New York has changed it attitudes to become closer to the car like crossover, the Grand Cherokee at Smith Haven Chrysler Jeep Dodge Ram continued to keep the true value of a sport utility to its name. The American SUV is top of its class with a complete makeover. You'll find the new body style Jeep Grand Cherokee continues delivers off-road and on-road experience that we have forgotten and continue to...

                                                                                                                                                                    Read More ...
---
September 11, 2014 
Since 1925 Chrysler has been developing quality American cars and the newest member to its family is no different. The 2015 Chrysler 200 C Sedan comes out onto the asphalt strong with power, speed, looks, and luxury.
We all have a need for speed and we here at Smith Haven are here to meet that need. The Chrysler 200 C comes with...

                                                                                                                                                                    Read More ...
---